We have introduced 3D or cone beam computer tomography (CBCT) imaging into our practice. A computer compiles data into a 3D image that we can navigate through in micrometer slices in three different planes or views. This technology allows us to more accurately diagnose and evaluate concerns related to pathology, cracked teeth, wisdom teeth, infections, previous root canals and implant placement. 3D imaging provides us data that 2D imaging may not.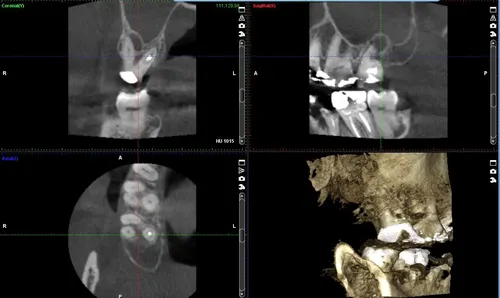 Our CBCT and CADCAM digital technology can communicate data with each other expanding our possibilities for dental care in the future.
---
2D digital and panoramic imaging has been in our practice since 2008. However, we are relieved to share that since 2015 we can now take external or extra-oral bitewing radiographs - no need for biting on films inside your mouth. Rest assured, kids and those with a bad gag reflex, the technology has arrived! (Note: The resolution is good but not as accurate as standard bitewing radiographs.)
Digital xrays reduce radiation exposure by over 50% compared to conventional films. Four bitewing radiographs is about the same amout of radiation exposure as a one way flight from Honolulu to Las Vegas. Our new panoramic and external bitewing machine offers even less radiation: one image that shows all your teeth, sinuses and jaws is the same as a single bitewing film.
Click here for more information on dental radiographs including information regarding radiation exposure.
ADA Accessibility Statement Please call us at 808-488-1988 Monday, Wednesday, Friday 8:00am-5:00pm HST, Tuesday, Thursday 8:00am-7:00pm HST, Saturday 8:00am-12:30pm HST if you have any questions or need assistance with content or navigation of this website.