Patient Forms, Map and Directions to Aiea Office
Your first visit to 'Aiea & Pearl City Dental Care establishes a vital foundation for our relationship with you. During the first visit, we make sure to obtain important background information, like your medical history, and give you time to get to know your doctor. To understand what to expect for your first visit to our practice, please read through this page. You'll find all the practical information you need, such as a map and directions to our office, practice hours, payment policies and more. You can even save some time at your first visit by completing the patient forms online from the comfort of your home in advance of your appointment.

Mission Statement
Our practice is working together to realize a shared purpose of providing a caring experience.

To fulfill this mission, we are committed to:
Listening to those we are privileged to serve.
Earn the trust and respect of patients, profession and community.
Exceed your expectations.
Ensure a creative, challenging and compassionate professional environment.
Strive for continuous improvement at all levels.
---
Patient Forms (Digital)
In our efforts to reduce paper, we are striving for a digital patient experience with online forms below. Please kokua, as this technology is still new to us. Mahalo for your understanding and patience.
NEW PATIENT QUESTIONNAIRES
Please contact us to reserve an appointment time and provide us with your contact info. Once received, we can email or text a link to our
patient portal
where you may complete your forms online prior to your first visit.
Please bring your dental insurance information with you to your first appointment, or, upload your insurance ID card to the patient portal.
Must be age 18 or older to complete forms online. Forms may instead be completed digitally via ipads in our office.
**Parents or guardians please email us at
[email protected]
to express your consent to the collection of personal information for children under 13 years of age if completing forms for them online.**
Notice of Privacy Practices
---
---
What To Expect
Please provide us any information that will help us with your care, such as completing your medical history form, providing us updated insurance information, as well as sharing with us any concerns such as previous bad experiences, dental anxiety, or troublesome areas in your jaw, gums, or teeth. We also appreciate letting us know how you found us.
To provide optimal dental care for you, we will be taking records such as x-rays and photos, and evaluating your oral health as it relates to your overall health. This involves checking your teeth, gums, jaw, and airway. We may ask questions relating to lifestyle, diet, habits, and sleep during your visit with us.
If your first visit is scheduled due to a dental emergency, our doctors will do their best to address your concerns. Please be aware that definitive treatment may require a referral to a dental specialist.
If your first visit is scheduled for routine care and a cleaning, you will be seen by both your doctor and a hygienist for care. Our goal is to provide a cleaning during your visit, but sometimes our gums require extra care and more than one visit in order to achieve optimal health.
Address:
Tallest building at the Times Square Shopping Center where the Spa used to be in. Behind The VCA, Spicy Ahi, and Ihop. Elevator is in the corner past the stairwell by Tutti Frutti. Free parking in unmarked stalls.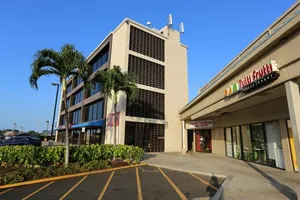 ADA: This page has links on it for new patient to click on to fill out forms online. If sight impaired or unable to fill out forms online for any reason, you may complete your forms in our office with assistance from one of our team members. This page also has links on it for existing patients to click on to login to their accounts to access limited account information. If a vision or other disability causes any difficulty creating an account or logging in or navigating your account information, please call us at 808-488-1988 (Monday, Wednesday, Friday 8:00am - 5:00pm HST, Tuesday, Thursday 8:00am - 7:00pm HST, Saturday 8:00am - 12:30pm HST) with any inquiries regarding your account and our team members will help with any questions.