Our collection of before and after photos continues to grow. Featured here are photos taken from both our digital cameras as well as our intraoral cameras. Sorry, no fancy studio photos.
The majority of these photos will be intraoral taken during the clinical appointment. Please be aware red/blue markings may be on teeth to check bites, small ribbons placed to keep the gums away, red/bleeding gums from doing dental work under the gums, turqoise rubber to keep the tooth isolated, cotton, plaque, food particles, etc.
---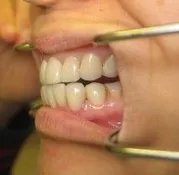 Tetracycline staining and wear, porcelain crowns
---
Decay under old tooth colored fillings removed, new tooth colored fillings placed (that bump is a salivary gland next to a cotton tip applicator. Red markings to check bite before starting to help design the filling).
---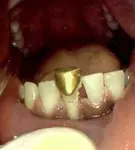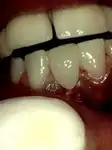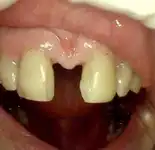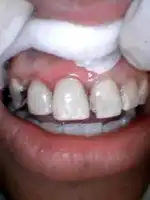 Patients presented with broken/loose teeth. Same day temporary teeth rebuilt using tooth colored filling materials/stains (supported by fiber posts and/or bands).
---
Very common lesions along the gumlines (from acids, brushing too hard, clenching/grinding). Replaced with a tooth colored filling.
---
All white (porcelain) crown replacing an old silver filling/crack in the tooth.
---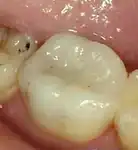 Sorry, no good before picture; during and after, tooth colored filling.
---
Large cavity in the front, back, and tongue side of the tooth with puffy gums. Soft tissue laser used, gums protected with rope-like string, white filling placed.
---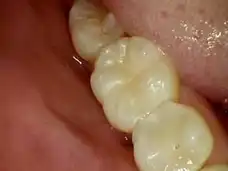 Sorry, no before picture. Lower tooth in the middle (first molar, tooth #30) had an old white filling that was leaking and a cavity in the tooth (dark spot on the right side or front of the tooth). Replaced with another tooth colored filling.
---
Spaces between the teeth are called diastemas and they can be closed with white fillings. Braces straightened the teeth first, but due to the shape of that front tooth we had to place a filling to close the space and complete the case.