NFL & MMA Quality Mouthguards

Heat & positive pressure machine allows for more accurate adaptation to the athlete's teeth and gums as compared to standard vacuum formed mouthguards.
---
Under Armour Performance Mouthwear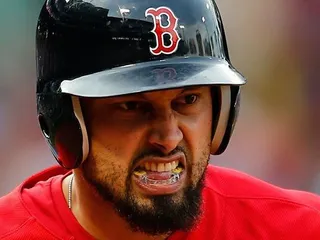 Shane Victorino
Armourbite Performance Enhancing Mouthwear from Under Armour
Increase Strength (up to 20%)
Increase Endurance (up to 17%)
Better visual and auditory response times (milliseconds)
Better concentration
Decreases Stress
How does it work?
Prevents clenching
–Decrease stress and stress hormones: cortisol - causes energy production in our body; byproduct of this metabolism is lactic acid which causes fatigue. Both cortisol and lactic acid reductions shown in research.
Repositions the jaw
–Opens airway (1-3mm or up to 9%), reduce stress in joint: better airflow dynamics shown in research; increased CO2 breathed out helps to decrease lactic acid levels
Keeps jaw muscles in more relaxed position; decreased range of motion when we do bite down during exertion or stress
New technology?
•Romans, Civil War armies, & Native American women would bite on leather straps or bite sticks. MORA devices, Pure Power Mouthguards: not new
–These UA mouth wear products are actually a product of Bite Tech, but Under Armour has partnered with Bite Tech to create a more affordable product for athletes of all levels
Similar idea to nightguards dentists use to decrease muscle tension and headaches in TMD patients
Similar to occlusal reconstruction cases using Myotronics K7 systems and TENSing Units - measuring the electrial activity of muscles to place a patient in an ideal bite. The Pure Power Mouthguards use this technology to create their mouthguards, but at a hefty price!
Take a look at these measurements: The left waves show muscle fatigue as the patient bites down. The right waves do not show fatigue as the patient bites down in an opened position (patient is biting down on rigid polyvinylsiloxane material).
Research?
General Information:
The ADA recommends mouthguard use for 30 sports, as up to 39% of dental injuries are sports related. Athletes are 1.6-1.9x more likely to be injured without a mouthguard (just ask Michael Vick!).
Two sizes: Youth (ages 8+), Adult (ages 12+)Custom mouth wear: impressions and a bite registration are taken and sent to Bite Tech labs (2-week turnaround)
Boil and Bite mouth wear: Available to take home and make yourself the day of
Colors and personalization: are only available for the custom mouth wear, no extra charge
Prices range from $20-30 for the Boil and Bite products, up to $229 for the custom mouth wear
Mouthguard straps, cases, and cleaners are also available in office for purchase
1 year warranty; UA recommends use for 1 season (as most athletes end up chewing on the mouth wear)
UA offers insurance for the mouthguard products
Professional Athlete use:
Prior to Under Armour's investment into Bite Tech, athletes including Adrian Peterson, Brett Hull, and Larry Fitzgerald invested in Bite Tech's mouth wear
Derek Jeter, Hunter Mahan, Brock Lesnar, Manny Ramirez, Michael Cuddyer, Ray Allen, Marian Gaborik, Zach Parise, Georges St-Pierre, Lindsey Vonn, Brandon Jennings, Rick Nash, Miles Austin, Bruce Fleisher, Julio Jones, Rey Maualuga, Brian Rolle and 100+ athletes at the NFL Combine 2011
Commentary
"I have a lot of people come at me with investment ideas, but this was something that really interested me [because] of my profession, in what I do," said "I'm able to sustain longer workouts and have noticed a significant improvement in my balance," says
"The minute I used it, I was all in," said Hull, an NHL Hall of Fame player and executive vice president of the Dallas Stars. "I said: How much do you need? I completely believed in the product. I could feel the results. I felt focused, sharper. I wished I had it in my first 800, 1,000 games."
"It has increased my strength, power and heightened my accuracy."
"When the game is on the line I want my body and mind to be 100% in sync, this technology makes that happen for me."
"The Under Armour Performance Mouthwear has given me the edge I need to increase my strength, keep me quick on my feet and rise to the challenge."
"I am always looking for that extra edge. From the moment I put my Under Armour Performance Mouthwear in my mouth, I could feel a difference."
"It's the best technology on the market. I used to hate wearing a mouthguard in games because its bulkiness would impede my breathing techniques."
"Where I'm really seeing improvement is in my drive phase and pulling a sled. I know that I am getting out of the hole better than I ever have."
"The weights don't feel so heavy."
"I have noticed feeling more relaxed when riding."
"Communication is a vital part of my position. This product fits like no other. I can shout and be understood."
"…helps me to stay calm and focused in critical competitive situations…."
"…I've got power in the 3rd period I didn't have before. I love this product."
"I have noticed a huge difference in my breathing and concentration…"
YouTube Videos: (We are currently working to embed the videos. We apologize for the inconvenience).
Matt Ryan
ADA: There are links above the photo of Matt Ryan that will lead you to Youtube for videos about the Under Armour mouthwear. These videos are not embedded on our website.