'Aiea Pearl City Dental Care is excited to offer same day crowns known as CADCAM technology. The process involves taking a digital scan of the patient's teeth rather than using the traditional gooey impression materials. A computer generates a 3D model which we use to design a new crown. The design undergoes a series of tests to ensure accuracy and dependability of the new crown. The data is then sent to the PlanMill machine where a set of computer-controlled robotic arms mill the new crown out of a block of porcelain, kind of like a 3D printer. See the photos below or video here .
Crown being designed through numerous checkpoints to ensure a functional, beautiful, strong and dependable design. The white scanner on the right is used to capture digital images of the patient's teeth which the computer compiles into a 3D model.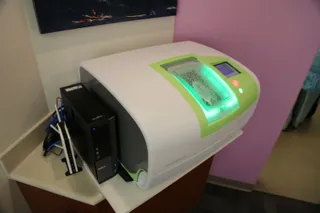 The PlanMill machine creating the crown out of a block of porcelain.
A crown right after the machine has completed the milling process. The porcelain is currently in a soft (and purple!) state. It will turn white after it crystallizes in an extremely high heat oven.
The final crown after custom shading and glazing followed by crystallization in the oven. This is an e.max lithium disilicate porcelain crown, a beautiful and very strong material.